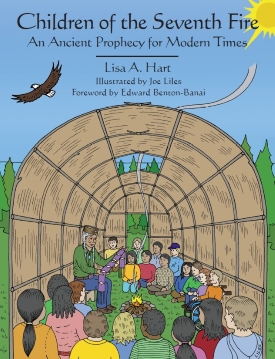 Hardcover: $21.95
Softcover: $18.95

8.5 x 11
40 Pages, Fully Illustrated, in Color
Bonus Inside: Children of the Seventh Fire Pledge Mini-Poster

~ USA ORDERS ONLY ~
For orders outside the US, please
contact the author at lisah@childrenoftheseventhfire.com



Children of the Seventh Fire Teacher's Activity and Guidebook
Children of the Seventh Fire - An Ancient Story for Modern Times is a fully illustrated children's book for use by children ages 8-12, teachers, mentors, parents, outreach educators, and others interested in teaching the importance of environmental conservation, sustainable balanced and peaceful lifestyles, and honoring the wisdom held in indigenous cultures.
Using teachings based upon an oral prophecy from the indigenous people of Northeastern North America, namely the Anishinabe (also known as the "First" or "Original Peoples"), Hart has woven the Prophecy of the Seventh Fire into a children's story which includes student characters of Native American and non-Native American cultures as they learn this prophecy from an Ojibwe elder, named Kinoo.
Each era of this seven-phase prophecy is explained to the characters by Kinoo. The phases of the prophecy—known as "fires"— begins with the migration of the Anishinabe people from the Atlantic coast toward the western Great Lakes region and continues into the time of the Seventh Fire. Kinoo explains that we are now in the era of the seventh fire, and people of all races must learn to make the right choices to preserve our planet by reflecting on the destructive history of the past.
The children in the story learn how to interpret each of these prophecies and as they learn, so do the children reading the story. The characters learn ways to live an environmentally friendly lifestyle through recycling, energy conservation, clean energy creation, and legislative involvement. These practices are taught in the book by example, and readers will be encouraged to start similar projects in their schools and homes.
Other topics include peaceful conflict resolution, cooperation skills in problem solving, and incorporating the knowledge of indigenous cultures to broaden their perspective. These topics are addressed in a warm-hearted and sometimes humorous way, involving three major characters. A conflict introduced in the beginning of the story between two of the characters is nicely resolved at the end with a little twist! Children will easily identify with the characters throughout the story and will be able to learn from their experiences.
The book includes a glossary, relevant print and web resources, and a Children of the Seventh Fire Pledge mini-poster. The author has also created a Children of the Seventh Fire Teacher's Activity and Guidebook, which can be purchased separately. The Foreword was written by Edward Benton-Banai who is the Grand Chief of the Three Fires Midewiwin Society and author of The Mishomis Book: The Voice of the Ojibway.