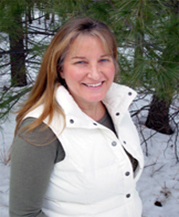 Lisa Hart was born in San Francisco, CA, but was raised for most of her life in rural Connecticut on 25 acres of fields, woods, streams, and a pond.
She credits her father for helping her develop a positive and respectful bond with nature at a young age and her mother for creating ways to introduce her to diverse and interesting cultures.
After graduating from Warren Wilson College in 1985 with a BA in Intercultural Studies and a Master's Degree in Medical Anthropology from The University of Connecticut in 1989, she worked as the Associate Director of a private non-profit organization in North Carolina. Lisa also taught English as a second language in American Samoa, and has worked as a teaching assistant in grades K-8.
In addition, she has interned at The Wittenberg Center for Alternative Resources, which hosted a wide variety of traditional indigenous elders who came to share their knowledge with the public. What had become inspiring to her was the thought of teaching children things they were not learning at home or in school. It became evident during her internship there that the wisdom found in traditional indigenous people's cultures was lacking in teaching children from western society. One of those teachings (The Prophecy of the Seventh Fire) inspired this, her first, book.
During the writing process of Children of the Seventh Fire'An Ancient Story for Modern Times, which took 15 years, she became friends with the Grand Chief of the Three Fires Midewiwin Society, Edward Benton-Banai, who consulted with her on the project and ultimately provided the Foreword. Well-known illustrator, Joe Liles, provided the full-color illustrations for this book.
She has lived and worked in various situations with indigenous people for the past 26 years, and has been attending Midewiwin ceremonies for more than six years. She is a member of the Society for Children's Book Writers and Illustrators and the North American Association for Environmental Education.
Lisa has been the owner of an organic gardening company in the Catskill Mountains of upstate New York for 15 years, but is working on teaching full-time as a visiting educator.
Lisa is available for general book signings and talks at schools, libraries, museums, cultural centers, etc. Please contact her directly for more information.
Topics:
Native American prophecy as pertains to the Prophecy of the Seven Fires.
Environmental education.
Terms:
Terms will vary for different events. They will be discused with the coordinator of each event.
Contact:
Lisa Hart
lisah@childrenoftheseventhfire.com